Business Simulations
Develop a virtual reality representation of YOUR business to facilitate real strategic choices; or alternatively develop a tailored, interactive simulation for teams within a competitive environment to obtain real-world business understanding.
Virtual reality simulation and business models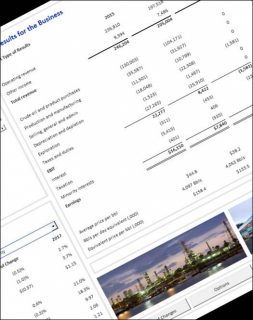 To support our learning events and for operational use in the business, we build models that enable virtual reality representation for those in the business to explore potential outcomes. These models commonly use scroll bar tools that enable key assumptions to be varied and their impact instantly identified.
An example is for branch managers of a retail chain where we built a virtual model of a branch enabling the managers to enter their real branch performance data and build development plans for the next two years. The model supported the training by illustrating the effect of actions that can be taken in the branch as well providing a tool that managers can take away after the training to continue applying their learning in the work place.
For a telecommunications company we have created a model to explore the profitability of their mobile phone packages. The model can evaluate the profit impact of bundling initial and ongoing incentives. The key is to offer services which have high perceived value by the customer yet are low cost to provide.
Examples of these models and many more can be provided.
---
Tailored, interactive, competitive simulations
We build simulations that are highly relevant and engaging, using real management reports and financial information from your business and its markets including:
Profit & loss accounts
Cashflow statements
Balance sheets
Notes
Key financial performance ratios (inc. EVA, ROCE, etc.)
Share price data
Market information (including competitor information)
Managing real world variables
Business Environment
Economic cycle
Inflation rates*
Bank base rates*
Interest rates*
GDP changes
Tax rates
Market Conditions
Up to 20 different markets
Degree of saturation*
Responsiveness to types of marketing investment
Responsiveness to investment in research & development
Sales take up levels*
Price elasticity
Number of competitors
(*Fluctuate in line with prevailing economic conditions)
Making real management decisions
People

Take on specific responsibilities
Plan recruitment & staffing levels
Agree salary rates & policies
Financing & Strategy
Determine business strategy
Raise or redeem equity capital
Raise or repay debt capital
Buy or sell fixed assets
Manage working capital
Manage cash resources
Sales / Marketing

Determine selling prices
Enter new markets
Investment in different types of marketing
Contract bidding
Operations
Determine product costs
Set production levels
Set operating capacity
Invest in Research & Development
Other attributes of our business simulations
In a training environment, teams of small groups operate competing businesses, playing out strategies over a number of operating periods. As well as incorporating key performance measures, in designing the simulation we can include a range of business areas including:
Establishing operations
Arranging funding
Managing staff
Designing products
Co-ordinating supply chains
Establishing pricing
Defining marketing and promotion
Our simulations provide realistic, engaging and dynamic learning scenarios because:
Decisions of one team impact the market and other teams
Markets are not exclusively available to the participating teams
Decisions are calibrated with real market data and expected responses from incumbent businesses
Participants can actively explore the application of business principles to real management decisions
The simulations also contain a stock market algorithm that calculates theoretical stock prices for the businesses. This aspect reinforces the link between strategy, actions and the creation of shareholder value.
Throughout the simulation principles are illustrated, practiced and explained. Tutor support and facilitation is provided continuously to help groups evaluate business situations and develop actions. A careful debrief consolidates the knowledge learnt and principles illustrated.
Options for practical learning
Integrated with a three to five day business learning event
A stand-alone module in a development programme
Distance-learning before, between or after programme modules to ensure learning sets maintain momentum and key principles are reinforced
Features

Benefits

Provide comprehensive management reports that can be designed to meet your requirements (i.e. using a business or industries own terminology or business performance measures)

Groups (or individuals) experience using reports with terms, currencies and performance measures that they are familiar with (and that they would naturally have access to)

Marketplace and overall economic environment can be pre-determined to meet client's own requirements

Results of decisions will reflect attributes of a realistic business and economic environment

Focuses on financial management but links this to wide range of other business decisions (e.g. marketing spend, recruitment, asset utilisation)

Results of decisions will reflect attributes of a realistic business and economic environment that can be created to suit their business's market situation

Can run for up to eight different decision periods and between two and six teams (or individuals) can take part

Participants focus on the business decisions rather than the operation of the simulation

Easy to use - participants need no computer knowledge (although can use PCs if required) and input of results is straightforward for the tutor

Can be easily incorporated into different types of learning events (e.g courses of varying lengths, remote decision making via email, intranet, etc.)

Doesn't include any random factors (unless required)

Inspires confidence of participants - they know that their results are only influenced by decisions in the marketplace (and they can see the evidence)